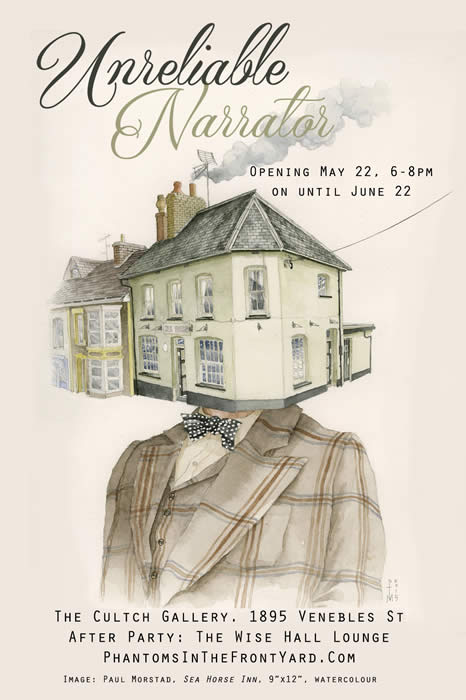 Group Show 'Unreliable Narrator'
Group Show 'Unreliable Narrator'
A group exhibiton with 'The Phantoms in the Front Yard':
Michael Abraham, Jeremiah Birnbaum, Paul Morstad, Bruce Pashak, Jay Senetchko, Jonathan Sutton
and Pennylane Shen (curator).
MAY 22 – JUNE 22, 2015
THE CULTCH GALLERY
1895 Venebles Street
Opening reception:
Friday, May 22nd 6 – 8pm
After party location:
THE WISE HALL LOUNGE,
1882 Adanac Street
Images and words inform and deceive. The interplay of text and visuals may be both penetrating and perplexing; actions may move fluidly within stationary pages, and round figures are revealed from the depths of flat surfaces. Unreliable Narrator invites you to a combined theatre and gallery space to see plays combined with paintings. Each artist has chosen a play whose words – and pages themselves – are incorporated into our figurative tradition.
Both theatrical and figurative art engage bodies. We feel a natural affinity with plays as they reflect a character and a moment; as they prompt gatherings of people around a singular experience. In Unreliable Narrator the notions of theatre, painting, plays, the artist and the audience collapse into the affinity of experience.
Playwrights referenced include Dylan Thomas, Harold Pinter, William Butler Yeats, and William Shakespeare.
There will be no small parts, only small artworks.
CULTCH GALLERY HOURS:
Monday – Friday 12pm – 6pm, Saturday 12pm – 4pm, Sunday – Closed
'The Tempest' (pictured below) is my contribution to the Cultch show. It is an 8.5 x 11 inch opaque watercolour painting. A 1920's vintage copy of the play, opened to my favourite passage is included in the piece.