East Side Culture Crawl 2023
Come see our work at 'Studio 1610'. Previews available this week and during the ESCC next week.
Hey Art-lovers!
Did you have a chance to check out 'Studio 1610' at 1610 Clark Drive during last year's Eastside Culture Crawl (ESCC)? If you were there, you got an early peek at my and David Haughton's new shared space. But guess what? We've been busy working on our studio, and this year promises to be just as (if not more) exciting! Come see what's new at 'Studio 1610' by either scheduling a preview or stopping by during the Eastside Culture Crawl.
Previews available: Saturday & Sunday, November 11 & 12 (Noon – 4 PM), and Wednesday, November 15th (4-8 PM). Please reach out to David at [email protected] to schedule a preview.
The Eastside Culture Crawl's open studio weekend is November 16-19, 2023. Drop by anytime from 5 pm-10 pm Thu/Fri; and 11 am-6 pm Sat/Sun.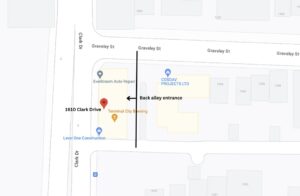 Getting there
'Studio 1610' is tucked away in a light industrial building at 1610 Clark Drive, nestled between 1st Avenue and Graveley Street. Find us on the second floor (unit 201), above Terminal City Brewing and an auto-repair shop.
Access through the back alley and enter from the rear parking lot (alley entrance just north of 1st Ave – see map).
---
After a successful Dunbar show in September, I'm excited to be bringing out some Abraham classics from the archives, including 'The Arms Dealer' from 1997, generously borrowed from a collector. David has some glowing new pieces!
David and I will be there for the duration of the ESCC. We will be glad to greet you with tea/coffee and quince bread. Here's a throwback to last year's ESCC with a snapshot of David and me, along with our first visitor and a new fan! 🎨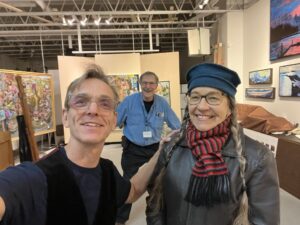 A note on COVID: Our studio is spacious, well-ventilated, and equipped with 3 Corsi-Rosenthal boxes and at least 1 HEPA filter for top-notch air quality. There is an immune-compromised person in our family sphere, so we ask that you wear a mask (don't worry, we've got extras!). Stay well 🙂
Please reach out to me at [email protected]m or Artist's assistant, Jenny, at [email protected] if you have any questions. 
Hope to see you at  'Studio 1610!' 
– Michael