UPCOMING ART EXHIBITION:
Michael Abraham – 'Looking Forward, Looking Back'
Michael Abraham will host his first solo show in Vancouver in a decade at Visual Space Gallery from Sept. 28-Oct. 5, 2023.
Opening reception – Thursday Sept 28  5-10pm
Closing reception – Thursday October 5th – 5-10 pm
(Gallery hours for the exhibition listed below)
Titled 'Looking Forward, Looking Back,' this exhibition features a collection of new paintings along with a few Abraham classics. The artwork takes viewers on a reflective journey, as Abraham explores what is most beautiful and meaningful as he gets older.
Since 1992, Abraham's oil paintings have garnered him a dedicated following. His unique perspective and ability to evoke emotion through his work have been recognized by critics and collectors alike. In a recent article in Rated Art, Abraham opened up about why his inspiration has shifted from profound social commentary to a more lighthearted focus.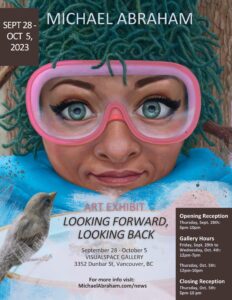 "Not long ago, I had a sister pass away, and my son recently spent four eye-opening months adventuring in Asia… so I feel time moving along. These things have made me think about what I may like to do– or what might already be too late to do, and what I feel so fortunate to have done."
Initially inspired by the idea of people turning to bucket lists as a way of coming to terms with their mortality, Abraham's recent body of work centres around capturing the richness of life. 
"I've heard that the meaning of life is to find meaning in life," says Abraham. "I like art that encourages reflection. Even the simplest of images, like a propeller, birds in the garden, or an underwater coral reef, can evoke wonder and contemplation." 
Art enthusiasts, collectors, and the public are invited to rediscover the power of embracing the future while honouring the past, and being in the now!
Michael Abraham –
'Looking Forward, Looking Back' 
@
Visual Space Gallery
3352 Dunbar Street
Vancouver, BC
V6S 2C1
Opening reception – Thursday Sept 28, 5-10pm
Closing reception – Thursday October 5th, 5-10 pm
Gallery hours: Friday Sept 29 to Wednesday Oct 4th, daily,  noon to 7pm,
Thursday October 5th, noon to 10pm
All are welcome!
Michael will be at the gallery for the duration of the exhibit – every day all day  There is an opening night and a closing night (two consecutive Thursdays, in case the long weekend throws you off!)
Artwork is available for purchase, with financing over time as an option.
Please subscribe to receive the occasional upcoming exhibition information.  
If you would like to preview the work in person, of if you would like more information, exhibition images, or to interview Michael, 
Be sure to follow @michaelabrahamart on Instagram
Updated : Sept 14 2023
*
You can now find images and writing for the exhibition
here