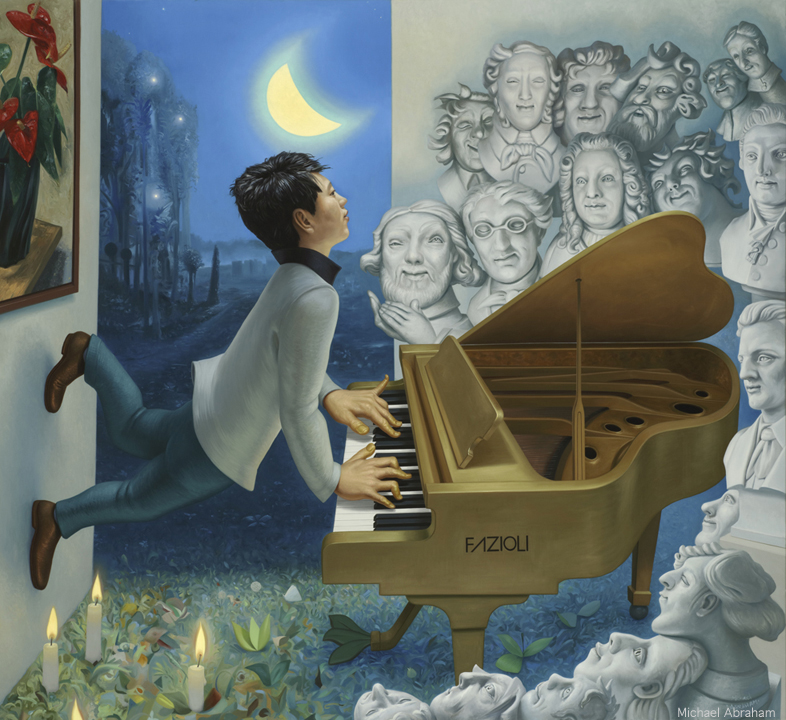 Unveiling Commissioned Oil Painting …
On Wednesday, January 13th, 2016 we unveiled a new painting commissioned by Manuel Bernaschek of Showcase Pianos – a Fazioli Piano dealer, in Richmond, BC.
Anyone who knows me knows i love to 'tickle the ivories', so when i was asked via email to meet Manuel about doing a commissioned oil-painting for his showroom, i was in!  Before our first meeting I was thinking i'd like to do a young gold-fingered 'midas touch' player playing a golden piano.  I remembered a painting i did back in 1992 of a young man walking up a wall as he played piano. I always think of music as lifting up the spirit. I didn't know before meeting him, but Manuel actually has a gold-leafed grand piano in his showroom. I was so excited when Manuel told me he this!  The idea was waiting to happen! Manuel suggested the composers surrounding the piano.  As his family and many of his clients are Asian, i thought it would be a nice tribute to paint a young Asian boy playing for the busts of great composers.  The red flower painting within the larger painting echoes the stylized heart shape of the piano top, symbolizing a love of music. The background is a dreamlike Italian background, to honour where Fazioli pianos are made, and also where studied painting in 1990-1991. I think that music takes us to other places and times, it animates us, it brings things to life, it melds worlds and spaces, the inside and outside, and it joins us all collectively.
The new painting hangs above his amazing gold-leafed Fazioli grand piano, in the showroom of his Aberdeen Mall location.  The buyer of the piano will also get the painting to take home! fun!
Prints:
Manuel has a limited edition 'archival fine art reproduction' of the painting available for anyone that may be interested in one.   You can contact him here: Showcase Pianos. He also has the best pianos around!