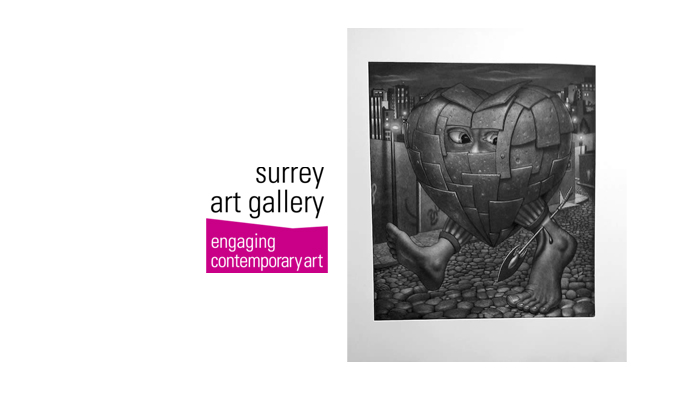 Exhibition: Surrey Art Gallery Permanent Collection
See 'Armoured Heart' From Sept 19 2020 to Dec 13 2020 at Surrey Art Gallery!

For more information:
Surrey Art Gallery Exhibition website
—
Where We Have Been explores the interconnection between place and identity in the South of Fraser region, through selections from the Surrey Art Gallery's permanent collection. In many cases, art acts as a record of the artist's perception of the world around them, functioning to situate them within a place. This process is important for anyone attempting to establish an idea of home, whether they identify as Indigenous, migrant, settler, or otherwise.
However, in other instances, artworks complicate the relationship between home and identity. Artworks embody traditions, rituals, and memories, which act as binders to a past which may otherwise have been transformed or displaced during the movement into the present. Elsewhere, the artist finds themself in a non-place, documenting instead their alienation, or the failure to find security within their community.
During a moment when our relationship with space is highly fraught, Where We Have Been speaks to the ways in which artists shape our communities through the portrayal of suburban and natural environments around the South of the Fraser, as well as personal narratives and cultural histories.
Artists: Michael Abraham, Jim Adams, Sonny Assu, Sylvia Grace Borda, Karin Bubaš, Sarindar Dhaliwal, Lakshmi Gill, Ravi Gill, Jeremy Herndl, Doreen Jensen, Chris MacClure, Heidi McKenzie, Ulli Maibauer, Arnold Mikelson, Shani Mootoo, Ann Nelson, Fred Owen, Bill Rennie, Don Romanchuk, Adele Samphire, Nicolas Sassoon, Helma Sawatzky, Ranjan Sen, Jan Wade, Stella Weinert, Leslie Wells, Joanna S. Wilson
Curator: Rhys Edwards
Origin of Exhibition: Surrey Art Gallery