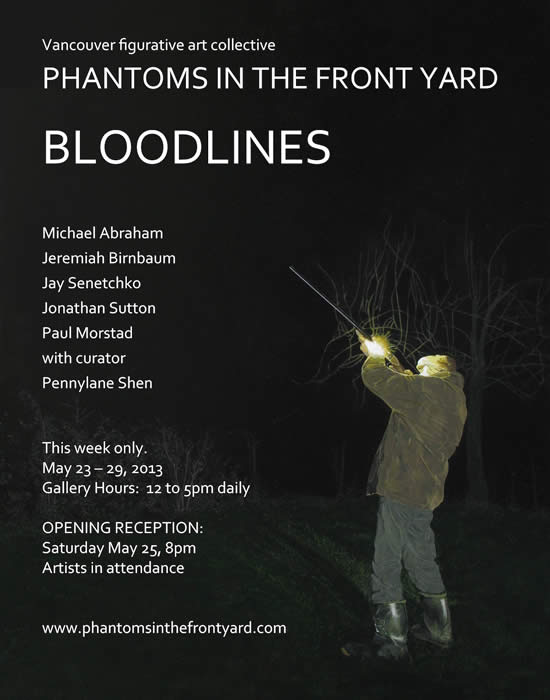 Bloodlines
BLOODLINES

May 23 – 29, 2013- One week only!
OPENING RECEPTION:  Saturday May 25, 8pm
Artists in attendance, at The Waterfall Building, 1540 West 2nd Avenue, Vancouver, BC V6J 1H2
Gallery Hours: 12 to 5 pm
www.phantomsinthefrontyard.com/Bloodlines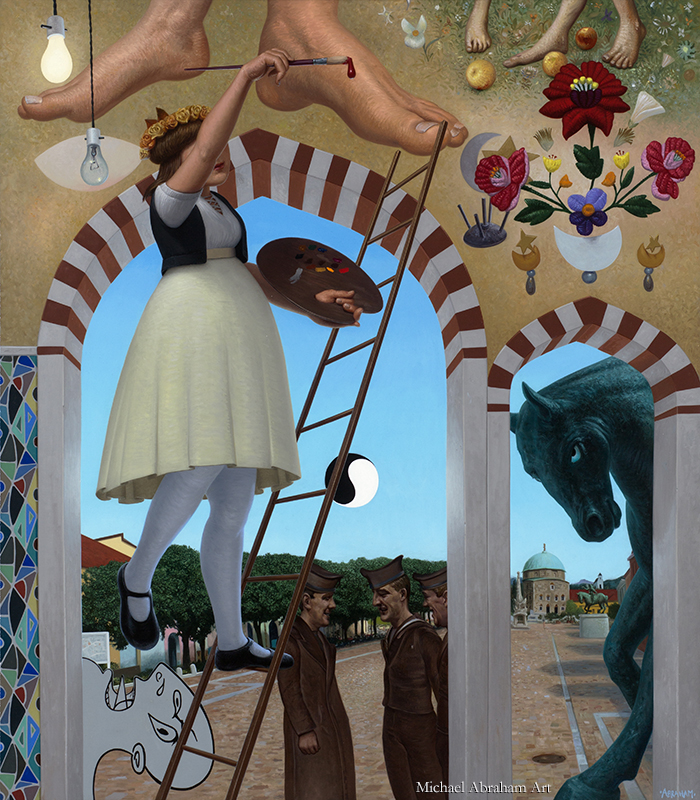 About the painting 'Bloodline – Witness to History'
"Upon discussing notions of heritage, history and culture, I was inspired to explore some of my family's history, and was amazed at how we are all so connected to interesting and important moments in history, and how that there is a wealth of stories that still resonate in today's political climate. I took these thoughts to create the painting Bloodline, Witness to History, which was exhibited in the group show' Bloodlines, with the 'Phantoms in the Front Yard', the figurative artists group in Vancouver.
A darker innuendo is what is often at play in my thinking, even when painting something of a lighter nature.
I begin with a brief family history:
I am fortunate enough to have had a grandfather, great-grandfather, and great-great Grandfather from my mother's side that were all great Photographers.
My Maternal great-great-grandfather George Arless was a staff photographer with William Notman (photographer to the Queen), in the mid-nineteenth century. He photographed some of the first hockey games in Montreal, captured early Irish immigrant life in Montreal, including urban floods and natural scenes, and did much portrait work. Some of his photographs are housed at the McCord Museum in Montreal.
My Grandfather, Lieutenant Richard Arless (Buster), was a War Photographer, a press photographer, and a commercial photographer, capturing the Second World War, including key battles Nazi submarine surrenders and much more. As a pilot, he was the aerial photographer for Expo 67. He was the cool old Gramps that told war stories. His many thousands of photographic negatives are archived at the National Archives in Ottawa.
My Maternal Grandmother was the head of the Catholic woman's league in Montreal for a time.
My Father escaped from Hungary in 1957, to flee the communist takeover of Hungary, having to lift logs across a minefield to get across borders. He came to Canada with five dollars. He never talked much about his history. I do know some of his friends were "taken avay"(sic)" when he was young. He preferred to come and make a new life in Canada, moving on from the past.
My Dad had a fine collection of art, architecture, eastern religions, philosophy and history books and more when I was a kid. I think this availability of books led to my love of art, painting, and history.
From the little I do know, I remember my Dad telling me only two things about my Paternal Grandmother. She was an assistant painter, painting the ceiling of a church that was at one time a mosque, in Pecs, Hungary. She passed away when my father was 12, having had an aneurism when the power went out one day. I have no photographs of her. I have recently found pictures of the mosque/church on the Internet. These became the departure point for my painting…
The painting 'Bloodline, Witness to History' is an angst yet hopeful homage to the past, to the mid twentieth-century war-years, to European culture, and to my Grandparents. I tried to encapsulate the history of my Grandparents and their witnessing of history, from my understanding of folksy Hungarian life, to military intervention, and struggles, getting dual nature of war and peace, and in the familial interest in religion and spirituality from both grandmothers. I also wanted to show the desire for humans to ascend the ladder to hope, glory, and understanding of the nature of God, and life. Big task, I know! LOL!
I liked adding the ladder, and the traditional folk pattern, the lightness, getting "back to the Garden" to quote Joni Mitchell.
I think artists are always reaching up, reaching out.
I initially thought of the Guernica light bulb when I was thinking of my grandmother having had an aneurism when the lights went out. I consider Picasso my figurative art grandfather. I added the Guernica element at the bottom left, as art capturing the atrocities of war, an impossibility to do completely and yet there it is, as an artifact to another 20th century atrocity. This element of the painting takes on an absurd Pop-Art sensibility, somehow trivial. Picasso mused about whether art can affect change. It may not affect change, but it can capture the zeitgeist.
The Florentine artist Fra Angelico was a figurative grandfather too., for his softness, light, colour… The Fra Angelico- esque Eden garden feet at the top right of the painting contrast the grey Picasso head.
The idea of the Mosque, then church, intrigues me. In the painting the ceiling is the being painted by my grandmother, her face concealed, as I don't know what she looks like… similar to not knowing "the face of God", the supposed grand architect of all things. Here she is holding the blood of life at the tip of her brush. I put my grandmother in the building, the same mosque/church that can be seen from across the square. I liked the idea of looking at the same thing from a distance, somehow to get another perspective on things, an Escher-esque, cubistic understanding not of space, but of thought. I also realize we can frame history in many different ways. There are no truths, only each individual's truth. For me this idea reveals a thought that there is no 'us and them', but that there is 'us as them'.
The sepia sailors, out of place in the town square, enjoying conversational moment, are taken from a photo my Grandfather took of soldiers, and I thought it was interesting to see this fading photo, a history disappearing over time….
The conflicts of eastern and western cultures and religions we see today began centuries ago. At one point I though my dad said the Church was a mosque, then church, then mosque, then church, but I can find no record of this in my web search. I learned that the slogan for the city of Pecs, Hungary, where my Grandmother painted is "The City Without Borders". I love this idea as it holds hope and openness, something I always wish for the world. Yet there is the truth that borders protect, secure systems and maintain order. So here we have ideals versus reality ever present in our ever-changing world.
In doing this painting I was reminded about how I question so many things about church, power, control, religion, and hierarchies. I am often frightened by the mobilization of the masses, be they religious fanatics, and of power mongering dictators, and I'm frightened by the nature of forces beyond any one individual's control. The horse, appearing De Chirico like, taken from a statue in the square outside of the mosque/ now church represents the threatening nature of these overwhelming forces. My thoughts race around religion, politics, power, war, hope, thoughts of Eden, and the dual nature of life, threats, civility, conformity, social order, borders, fascism, life and death, the list goes on, Jesus, spirit, harsh reality, gentle nature, totalitarianism….
Life is the Yin, the Yang, and everything in between.
Our Grandparents, had a lot to deal with, and not unlike us, had a lot to ponder. I often think there is too much to ponder, as nothing is ever quite what it seems." – Michael Abraham, May 2013.