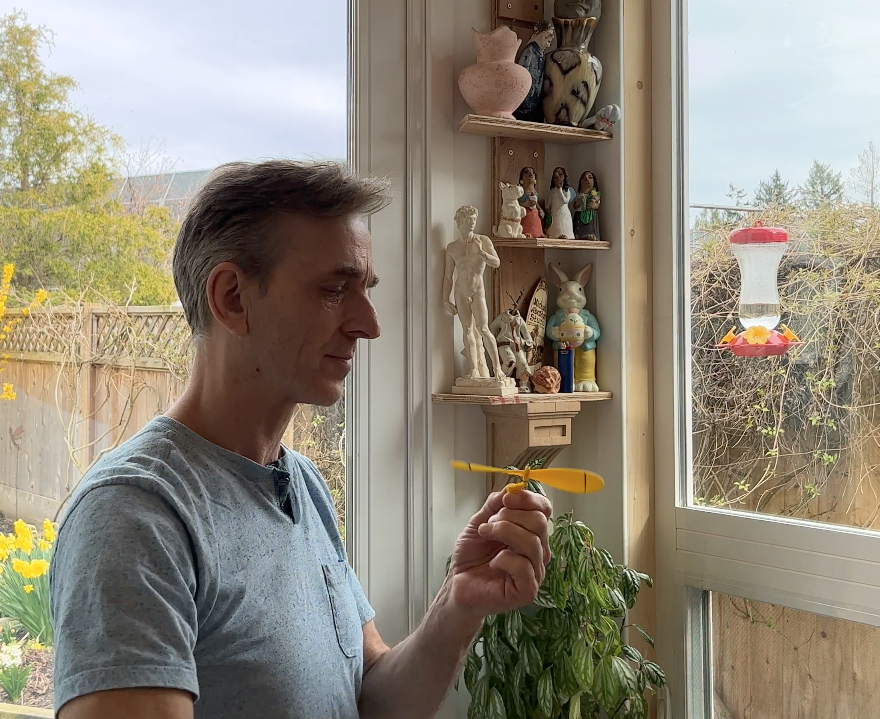 The following collection of nine new paintings are on display at Visual Space Gallery from Sept. 28-Oct. 5, 2023, along with a few older Abraham 'classics',
The artwork takes viewers on a reflective journey, as Abraham explores what is most beautiful and meaningful as he gets older.
Abraham opened up about why his inspiration has shifted from profound social commentary to a more lighthearted focus: 
"Not long ago, I had a sister pass away, and my son recently spent four eye-opening months adventuring in Asia… so I feel time moving along. These things have made me think about what I may like to do– or what might already be too late to do, and what I feel so fortunate to have done."
Initially inspired by the idea of people turning to bucket lists as a way of coming to terms with their mortality, Abraham's recent body of work centres around capturing the richness of life. 
"I've heard that the meaning of life is to find meaning in life," says Abraham. "I like art that encourages reflection. Even the simplest of images, like a propeller, birds in the garden, or an underwater coral reef, can evoke wonder and contemplation."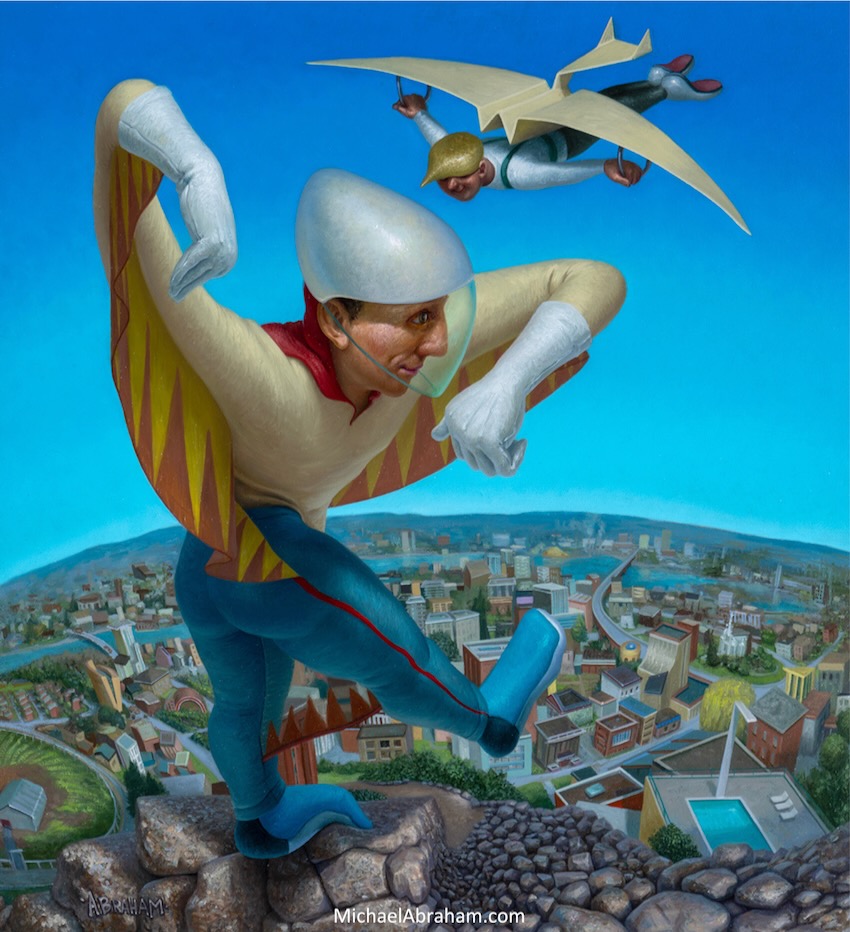 Oil on linen, 22 x 20 inches, 2023
Today is the day!
A gravitational pull keeps one grounded, and yet one wants to fly. 
Have I always wanted to skydive, but resist? I watch the daringness of squirrel-suit jumpers and I dream, and yet again I hesitate.
In Astrophysics an event horizon is a boundary around a black hole inside which events cannot affect an outside observer.  Oh, to not be affected by outside events. Oh, to be free to fly!
Wanting to experience the fullness of life, being bold enough to do something out of one's comfort zone, or doing that exciting thing one more time! 
What am I in this body for? Shall I get that squirrel suit? Shall I try to paint an entire city from my imagination? Being an artist is squirrel suit jumping!
Always looking to the distance for fun and excitement… wanting to do something bold before one's demise, wanting to get high up enough to see as far as the eye can see.  
I have this desire to understand everything… Lofty goals!  
Shall I get that squirrel suit?
Helmet on!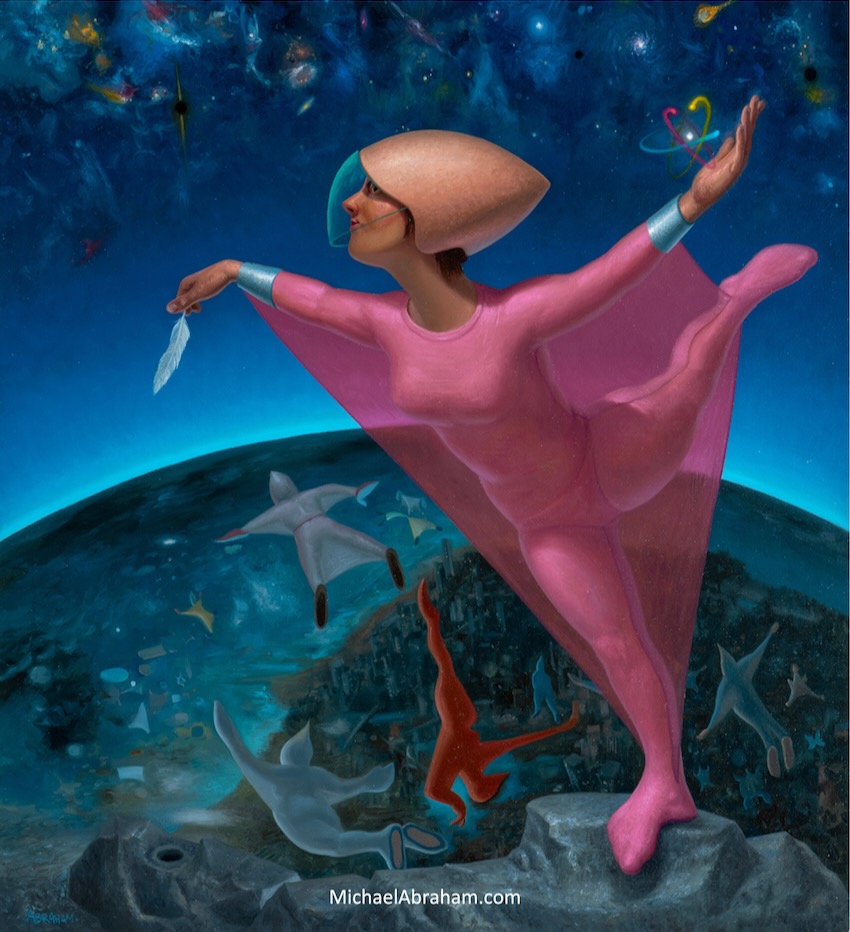 Oil on linen, 22 x 20 inches, 2023
I think of my lovely wife as an astral traveller, a space creature who lives on this planet, in this particular place, always interested in psychology, relationships, the metaphysical, the nature of consciousness, 'spiritual' thinkers,  energy, and out-of-body experiences, interested in looking for the deepest of understanding.
As a therapist, she's not afraid to look into life's black holes, and points herself and others to the light. In the feather there is a lightness, the feeling she makes many feel.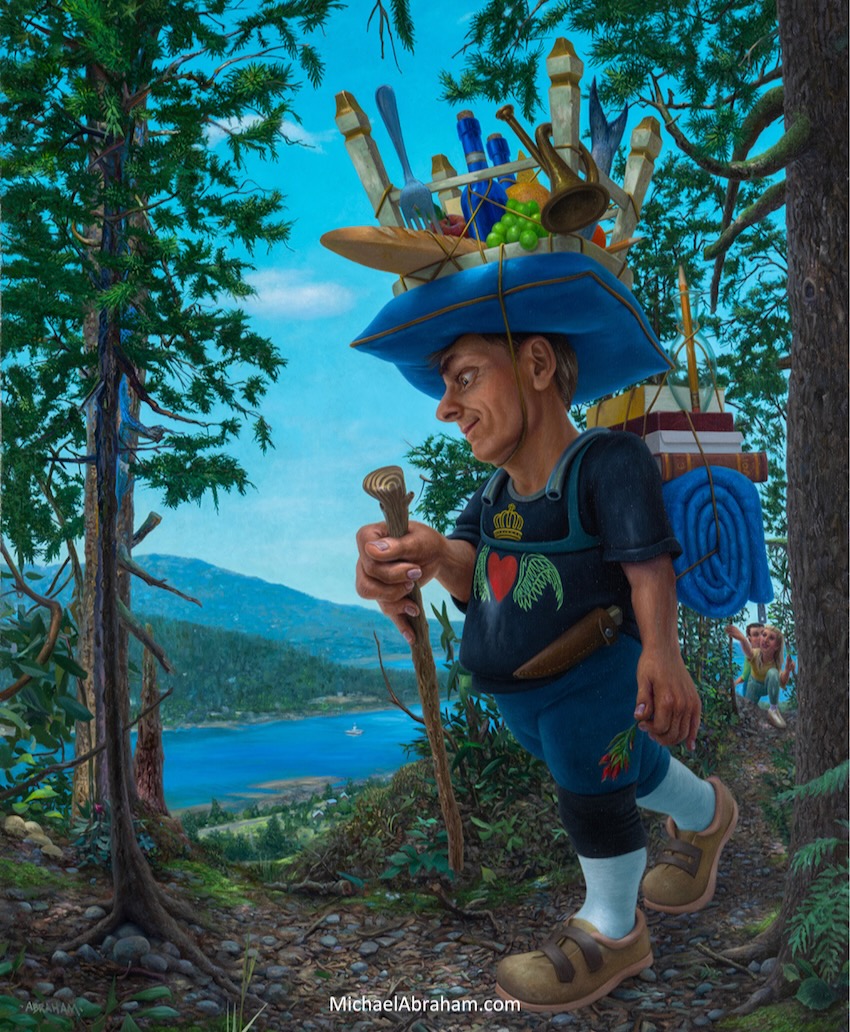 Oil on linen, 44 x 36 inches, 2023
There is a realization as to the next phase in the life cycle. After all the 'hierarchy of needs' is met with up to and including self-actualization, and acceptance of the nature of life, and fulfillment of purpose and all the fixings for a good life, what is left? … To experience the tangible world with gratitude, before the knees give out.
The most common bucket list 'to do' for people is the El Camino de Santiago—Europe's longest and most storied pilgrimage route. A few of my friends have done it in recent years.  I was thinking how we all have our own pilgrimages, and that life is a pilgrimage, to get to an understanding of the 'holy'.  In my personal pilgrimage through time I have been blessed to walk the paths of Hornby Island.
This late middle-aged everyman is a composite character, mixing traits of a few relatives and friends. The image on the t-shirt is a symbol/logo used by the band 'Simple Minds'. One of my favourite songs by them is called 'We Travel'.  I finally saw them a few years back after having this on my bucket list, even getting in a fist bump with the lead singer!
We all really own nothing in the end but our experiences. If lucky enough, we all complete the fullness of our individual path. We all become sovereigns of the forest.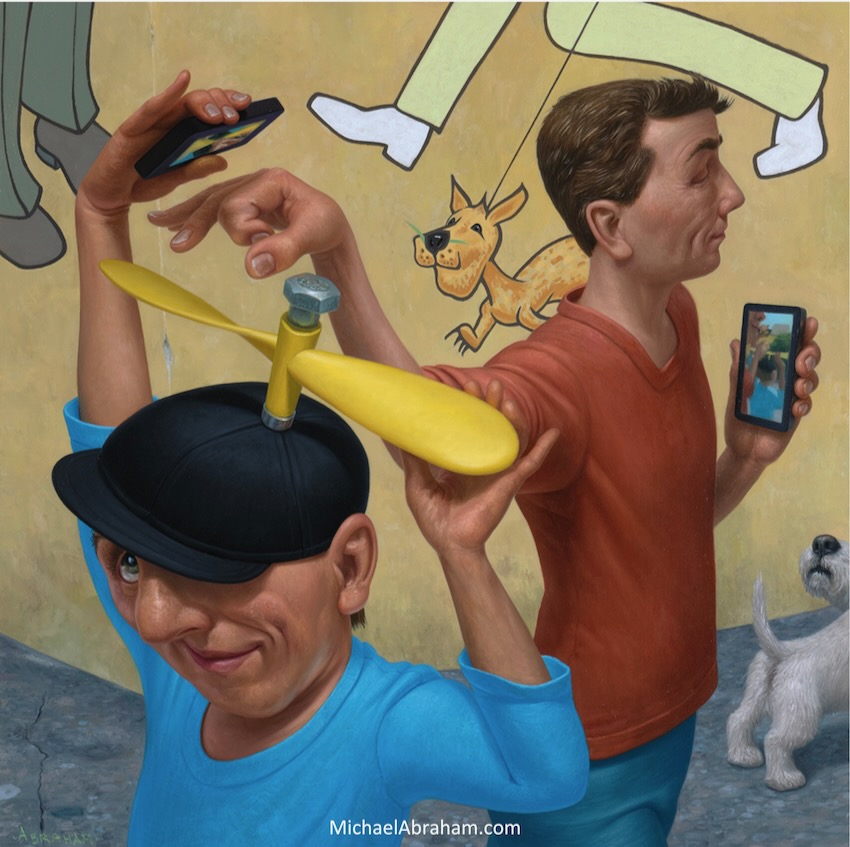 Oil on linen, 30 x 30 inches, 2023
I was as happy as a clam with my umpires cap, and always so content with novel things.  Often I was 'in my own head' as a sensory-loving child.
My favourite hat was taken and flushed in the toilet by a 'mean girl' in grade eight. I was thinking of the taunting and 'trolling' of the age we were in.
Sometimes, we can't help but do something.  We are propelled.
The right-hand character in the painting is capturing the 'flicking' of the hat-wearing characters's propeller. The Florentine-coloured wall represents a time spent in a place, and so has me looking back to a younger self, giving my younger self a little tease.
Does everyone look back with a softness to our previous selves, and to other's previous self states? 
We are the dog we walk. Jack the dog passed away. Another Jack coming in as one is exiting.  Life goes on.
The cartoon painting on the wall, a happily walking dog and owner with pristine white shoes, and around the corner something that could mean 'business', something more serious…the threat?
We have the technology to watch ourselves.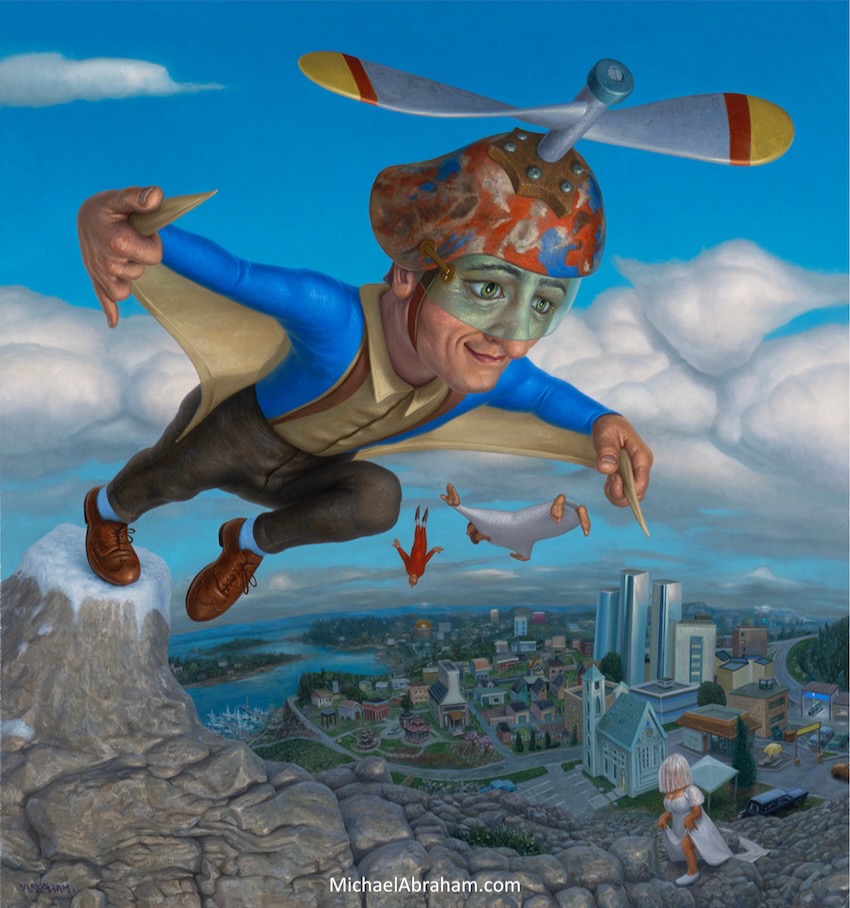 Oil on linen, 30 x 28 inches, 2023
The light source sets this as either a jump before the sun sets, or a new day dawning
Taking in the entire vista…
Big decisions, big choices made. Taking a chance, dare to do, its do or die, or die doing, or do before dying. What are the leaps that make us free? What are the leaps that kill? What are the leaps that make us feel alive?
A little reference to the afterlife with angel and devil, with the Redbull-like devil diver, and the floating white-robed 'religious man. Floating figures always intrigued me in the religious paintings in Europe.
Drin – Sunshine in Winter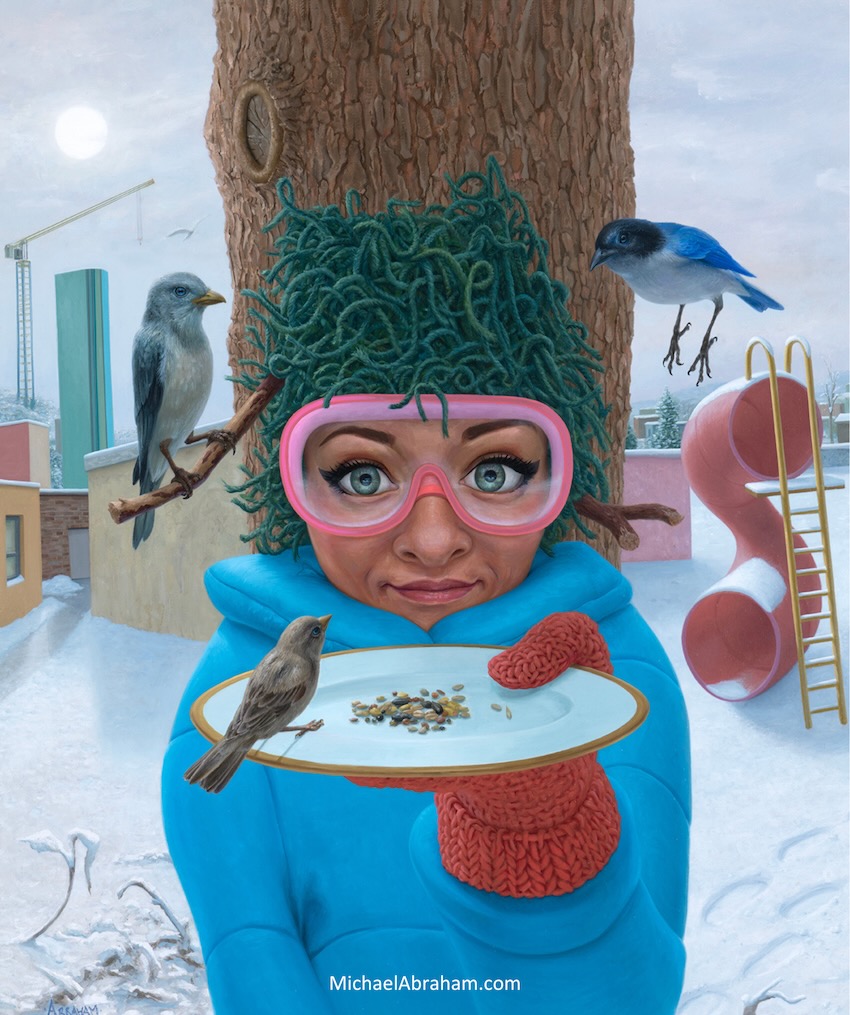 Oil on linen, 36 x 30 inches, 2023
With age we become kids again.
With my home studio looking out onto the garden and birdhouse, I get excited with 'our' robin visiting, along with hummingbirds and others. The nightly TikTok forwards from my wife are often of animals. @BirdLadyDrin put a smile on my face. Her 'work' as a bird lady embodied my rejuvenated excitement about nature, and captured my artistic sensibility, and so I wanted to capture her lovely appreciation. 
I called this one 'Sunshine in Winter' because as the world looks bleak from so many angles of my Twitter and news algorithms, Drin was a breath of hopeful reverence.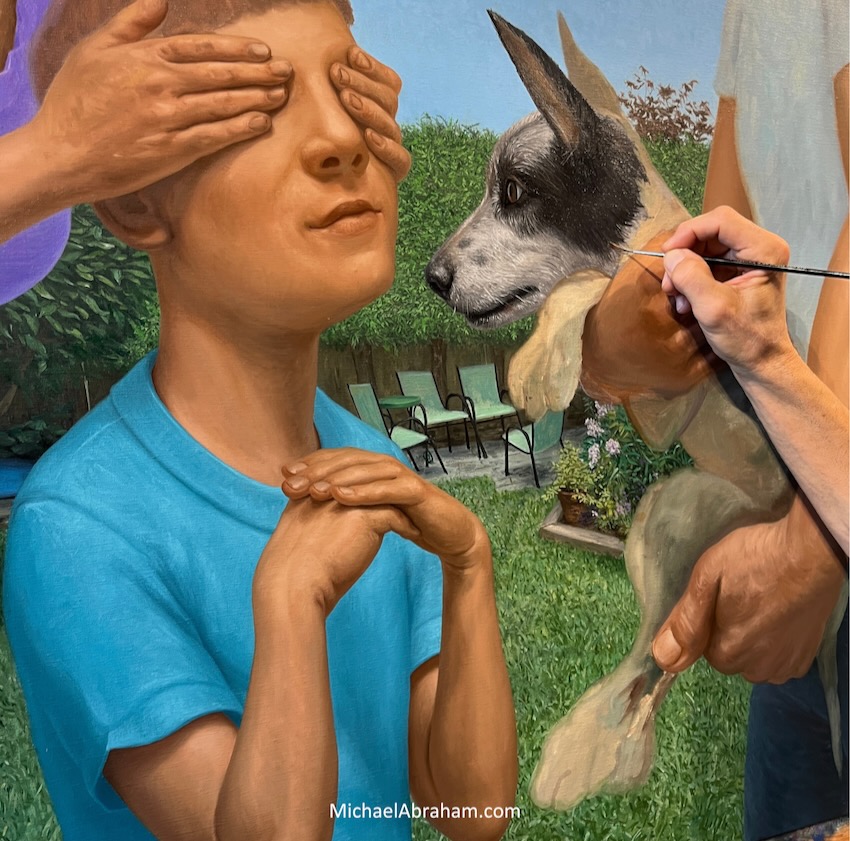 Oil on linen, 28 x 32 inches, 2023  (Work in Progress – This photo will be replaced with new photo once the painting is completed.)
There is no stronger love than the love between a boy and his dog.
New life. And simple appreciation.
The start of mastery begins with a dog.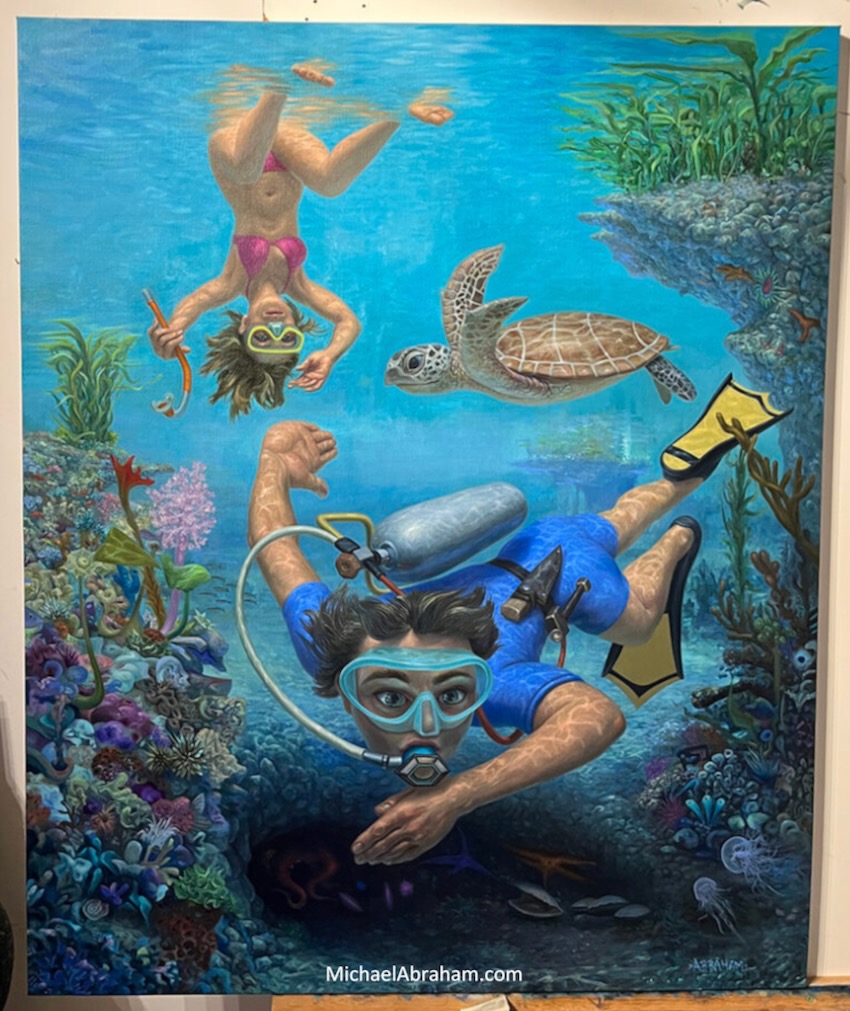 Oil on linen, 44 x 36 inches, 2023   (This photo will be replaced with a better quality photo once the painting is varnished.)
Bucket list experiences are people living their dreams.
My son inspired this painting, as he was travelling to southeast Asia for a few months, and one day said he and his girlfriend had something to tell my wife and me.  So we arranged a FaceTime call. In my mind I was thinking I am too young to be a grandfather.  And whew! I was right. They were so excited to let us know that they had taken their deep-sea scuba training!
The lightest light shining on the backside of the top diver, to the darkest dark of the octopus in the cave, and all the beauty of the imagined nature in between…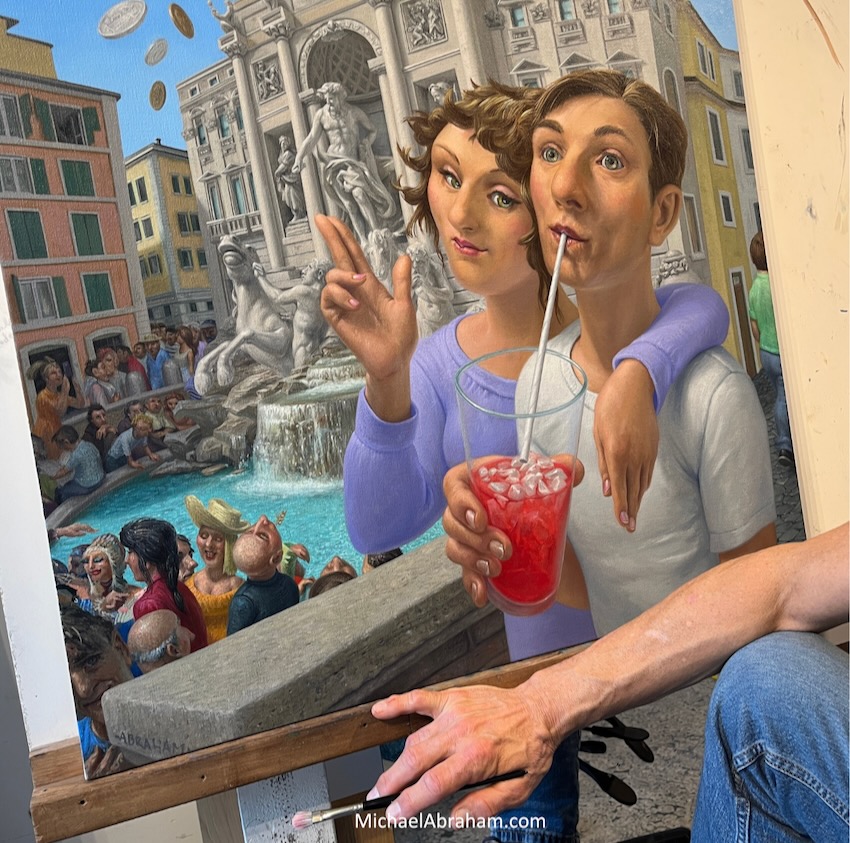 Oil on linen, 30 x 30 inches, 2023   (This photo will be replaced with a better quality photo once the painting is varnished.)
Looking back… We live the bucket list without even knowing.
One does not always know what the journey will bring. But then, in hindsight, we can reflect on all that it had to offer and expose… the colours of life.
This idea came by thinking of how we don't know we are in these key moments until after they are done. It is a reminiscence of already experienced time and place, but a romanticized fiction of time spent as a young man travelling for school.
The goal was to learn to paint well, to see great art and to experience life, love, and history. But it lead to an understanding of oneself, human nature, politics, time and so much more.
Taken by the splendour of an incredible place, the things I often recall are the minutiae, the taste of a drink, or the colour of another's eyelids! And at another time, a enjoyed tuna sandwich with a visiting parent, or an irrelevant comment and a smile.
(The title "colori della vita" is a lyric in David Bowie's "Ragazzo Solo, Ragazza Sola," the Italian version of  'Space Oddity'. I was a huge Bowie fan as a teen.)
The exhibition at Visual Space Gallery also features a few older paintings from Michael's personal collection including the large compositional painting 'Piper's Medley', a few paints from the Abraham Archives, and few sculptures, and a few art prints.
For gallery address, and opening and closing reception times, and gallery hours, click this exhibition / news link.  Michael will be at the gallery for the duration of the show.
Artwork is available for purchase, with financing over time as an option.
If you would like to preview the work in person, of if you would like more information, exhibition images, or to interview Michael, contact artist's assistant Jenny Cunningham – [email protected] 
Enjoy the video below if you'd like to see the 'Leap of Faith' painting in progress.
'Propelled' – a 45 video of the painting 'Leap of Faith' in progress, April 2023.