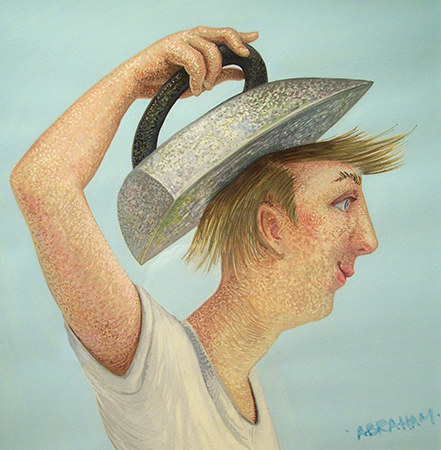 All That Glitters…
The following paintings were all images from 'All that Glitters', a solo show that took place in May of 2010, at Gallery Jones Vancouver.  This body of work is about illusion and crashes.
I had a collector friend who is in the mining business and they suggested that mining and the stock market might be a nice point of departure for some images and that he'd be curious to see what I would come up with. At the same time, being a news junkie, I was more and more aware of the financial world. The images have to do with mining, speculation, business, economic collapse. I was aware of stories of Bernie Madoff, the Bre-x scandal, the bursting of the art world bubble of 2009, and the like. I was painting these images as I was becoming more aware of things. I also had a car accident that affected my head for a number of months so the idea of tenuous balance, collapse, and getting back up again meant something to me.
Words about:
A Good Yield, oil on linen, 36 x 32 inches, 2010
The word 'yield' has two definitions. I liked combining a good caution or yield sign, don't fall down the hole, a sign you may see at a mining area. A good yield, juxtaposed against the definition of yield, means a good harvest. In this painting, I tried to create a Bernie Madoff type fool who promises you the world. The helicopter pad is a tip of the hat to the Bre-X scandal and the disappearance of geologist Michael de Guzman who died by falling from a helicopter.
From Wikipedia:
Bernard Lawrence "Bernie" Madoff (born April 29, 1938) is an American former stockbroker, investment advisor, financier, and white-collar criminal. He is the former non-executive Chairman of the NASDAQ stock market and the admitted operator of a Ponzi scheme that is considered to be the largest financial fraud in U.S. history. Bre-X Minerals was a company involved in a major gold mining scandal when it reported it was sitting on an enormous gold deposit. Bre-X Minerals collapsed in 1997 after the gold samples were found to be a fraud. The fraud began to unravel rapidly on March 19, 1997, when Filipino Bre-X geologist Michael de Guzman died by falling from a helicopter in Indonesia. His body was found four days later in the jungle, mostly eaten by animals and identified from molars and a thumbprint. A week later, on March 26, 1997, the American firm Freeport-McMoRan, a prospective partner in developing Busang, announced that its own due-diligence core samples led by Australian geologist Colin Jones showed "insignificant amounts of gold". A frenzied sell-off of shares ensued and Suharto postponed signing the mining deal.
– M.A. notes circa 2012
Words about:
Dreamers, Schemers and Streamers, oil on linen 48×72, 2009.
I think about the excesses supposedly abundant before the collapse of an empire often mentioned in history books, i.e. the fall of Rome. Decadence and collapse: Illusions of the art world? I often think about the emperor's new clothes, or how people are led by others, all to the grand promise of all things being paved with gold but how the masses are joined together to watch a massive apocalypse. The main figure in the front roasting marshmallow, sort of like Nero fiddling while Rome burned. Or possibly a man in the know, who knows what is happening, and may profit in some way from his smarts. "No worries mate."
The allusion to followers being blind, Timothy Findlay's story of Noah building the arc is a powerful novel of seeing things in absolutes, versus seeing the nuance…. 'Not Wanted on the Voyage' is one of my favourite novels.
There is always the official story and the alternate takes on what happens. I liked the idea of the big party somehow coming to a grand ending. Wall Street displaying unabashed greed as seen more and more often on the news. I loved the idea of many going to a big bash and streamers, and the unseeing one with the flame setting the whole thing ablaze. Sometimes we want change, sometimes change happens unexpectedly in a way that changes everything. or not. On and on it goes. Are we following each other too closely and conforming to stupidity?  – M.A. notes circa 2012