Sun stars fire and flames – images from 1992 onward.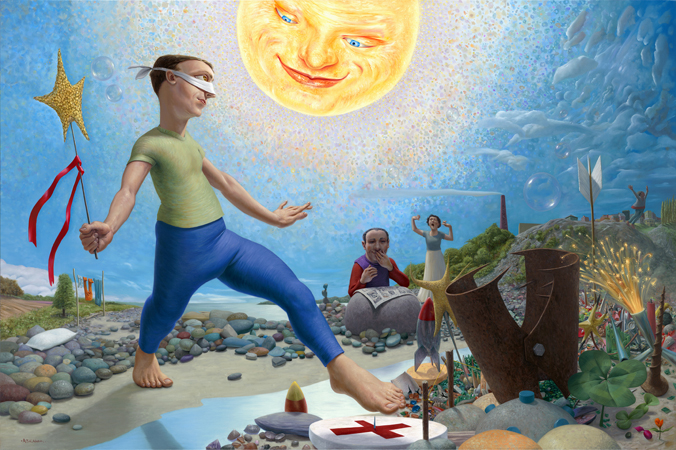 Words about:
'Blind Faith', 2005, oil on linen, 48×72
This piece is about not knowing what is on the other side, about having faith in the process, and yet there are the 'sharps', the dangers lurking, the things we fear may happen if we make a change for ourselves, the Buddhist laughing gently at the anxiety of the scenario… the small figure in the distance leaning into the wind, trusting it will hold him up… The pillow could be the dream, the idea that life is all just a thought and then gone. Or waking up from innocence and stepping over into the dangers of life … I painted this at a time when I was deciding on what to do with a business situation I was in… blind faith, fear. I often like to paint barefoot figures, could represent vulnerability, comfortableness, trustiness… The sun a big ball of fire, and yet in this case comforting and warm… I love how the biggest scariest ball of fire in the sky thousands of times bigger than the earth represents warmth and comfort in visual imagery… the dichotomy of an objects symbol and it's actuality. And yet it is both. The symbol representing something else, faith, comfort, god, all-mighty power… the source… the bubbles in the air, transient small films of soap suds, here and then gone, pop…it was an interesting experience to try and paint the light… I love figuring out light in a painting!