Art Studio Classes with Michael Abraham
Oil Painting Lessons, Acrylics, Drawing…
If you want to 

really

 learn how to paint…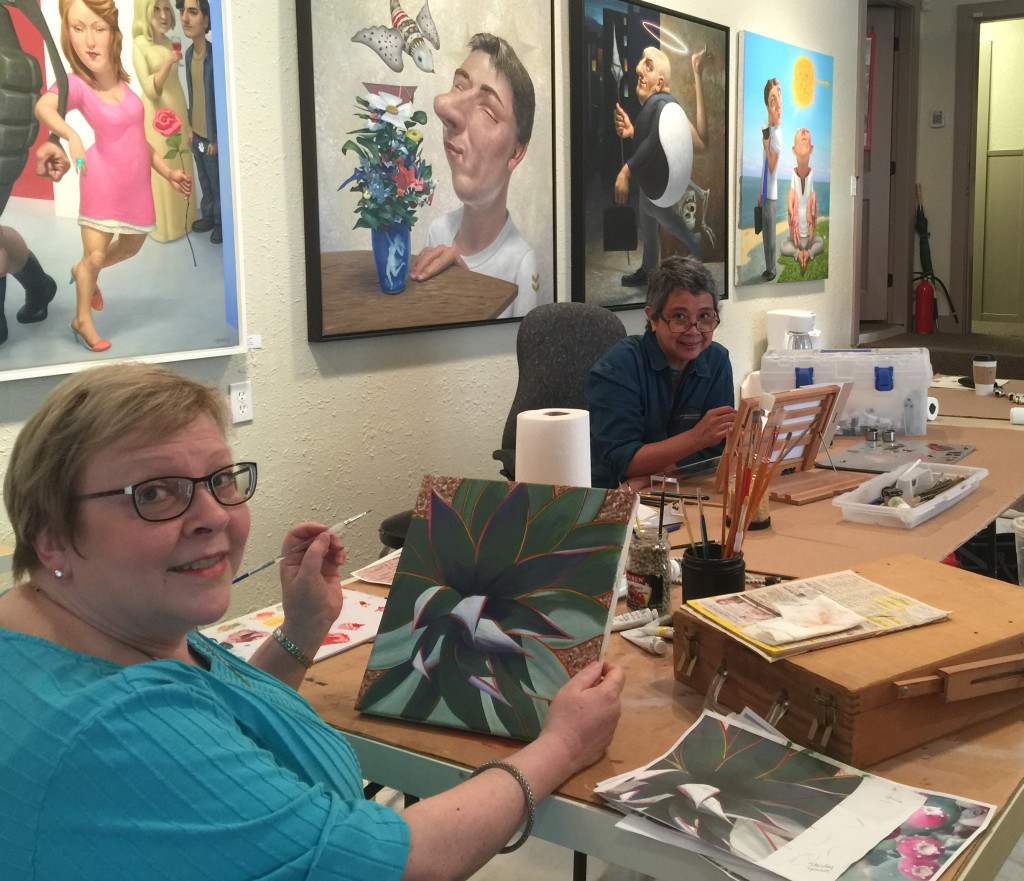 All skill levels welcome.
Limited to up 6 participants per adult class.
---
While I mainly teach oil painting, you are welcome to paint in acrylic, watercolour and drawing. I got ya covered! Beginner to advanced.  No need to be intimidated.  I'll get you from beginner to advanced in a gentle way!
---
Class times
Fall 2018
Adult Classes Daytime
Tuesdays morning from 11:00am to 2:00pm
Wednesday morning from 11:00am to 2:00pm
Thursday morning from 11:00am to 2:00pm
Adult Classes Evening
Tuesday evening from 6:30 ish to 9:30 ish

I suggest initially signing up for 4 to 8 weeks for adults. Fees can be paid in monthly instalments at the beginning of each month's classes.
You can start at any time if there is room. If you email me and ask for the availability calendar i can send it to you!
Phone me for details or if you have any questions. I prefer talking on the phone and am available daily after 11 am. 778-886-1296
(If you need to be away for a class, I'll be happy to accommodate you. I reserve the right to cancel a class if low in attendance, and to add classes if the demand is there.)
---
About the Classes

I will cover basics, and way more!
Learn how to layer, blend, and glaze in an indirect painting technique, and also how to paint brightly coloured (non muddy) alla prima (direct) paintings… I will show you how to add detail, and how to paint in a low to no toxic, clean way. Mixing the right colour, no sweat! Or you can make a mess if you like!
Whether you want to increase your drawing and painting skills, learn to see, develop your portfolio (ideal for school entry), or experiment with a variety of art materials, I can give you what you want! Hands-on in-studio demonstrations and discussions are tailored to meet your needs. You'll experience plenty of individual instruction and studio time.
If you need drawing and design help, or if you need artistic direction, assessment or a little boost with your work or mindset, or if you're someone new to art and ready to rock, I'm here for you!
You can paint what you like, be it realism, abstraction, stylized, or explore a new medium for the first time.  If you are not sure, I can assign you a few things to get you started on your way.  I pretty much have oil painting and image making covered, so come have fun, challenge yourself, or escape into the world of creativity.
See the 'Suggested Supply list' for Oil Painting Classes here.
For other mediums contract me and we can discuss what you may need.
As a fifth year graduate of the Ontario College of Art and Design, and a successful full time artist since 1991, I offer an expert's experience in the materials and techniques of painting and drawing, along with sculpting, outdoor art projects, printmaking, and understanding the art world. I have taught independent and artist guild workshops and at private schools, including at St. George's School and West Point Grey Academy (where our current Prime Minister taught!)  I love teaching, and look forward to helping you achieve your artistic goals.
---
Registration and Fee
Drop me a line at michael@michaelabraham.com with the subject
"Michael, I'd like to take a class with you… "

Be sure to leave me your phone number.
You can also call me daily between 11am and 9 pm at 778-886-1296.
Fee: Adults: $75 per class, plus gst.
$300 for 4 sessions. (3 hour + per session)
Visa, Mastercard, bank e-transfer, cash or cheque are accepted.
---
Location
Michael Abraham Studio Gallery
2nd floor, 4803 Haviland St, Ladner, BC V4K2V6
(Above Delta Carpets, across from CIBC, 25 minutes from Vancouver)
---
Testimonials
As you read the testimonials below you'll see that my goals as a teacher are to share what I know, and not allow you to feel intimidated. So if you are feeling insecure, don't let that stop you! Here are what some of my former students have had to say:
"I loved the class I just attended. It was the first time I have touched a paint brush since my teens… I was with people that have been painting for 5 years and you made me feel so comfortable… even though my painting was so simple. I appreciated your way of teaching and how you made me feel … not a beginner!! LOL! I would love to have more classes with you." – H.F. – Vancouver.
"First oil painting after 13 year hiatus from that medium- done in 1.5 hours in a painting class with Michael Abraham Monday night – more info from him in 2 hours than the whole 4th year of art school… it was freaken awesome…!!!!!!" "Thank you so much, Michael, for holding such a great class- You are as great a teacher as you are a painter!! " – Lianne Varnam – Vancouver.
'Hi Paint Whisperer… I am so appreciative of your kind attention to my painting and my project figure-outing. ' -T. – professional artist, Vancouver.
"I think about you with gratitude almost every day. Thank you for stepping into my world with your clear, honest, passionate, creative voice of experience. I am now feeling so excited about my paintings" – S.B. – professional artist – Vancouver.
"I have just taken Michael's workshop at Dene Croft's this weekend, and wanted to say what a great workshop it was. Michael is an excellent teacher, with lots of knowledge, patience and humour. I have taken many workshops over the years, and even though I'm a fairly experienced oil painter, Michael taught me a lot about several improvements I could make, and new ideas to try. I would highly recommend this workshop to painters who are new to oils, or those with some experience who would like to improve their skills." -C.G. – Tsawwassen…
"Taking Michael Abraham's class is a unique experience.  I am able to work in a real artist's studio setting and learn tips and tricks of his style.  Michael's classes are smaller than the usual classes and workshops offered around; therefore, the instruction is more intensive, 

and I especially appreciate his guidance on colour mixing.  

It's almost like a one-on-one session, except there are a few people with you, which makes for great camaraderie.  


I would highly recommend Michael's class to anyone." – T.C. )

"For years, I've painted with watercolours, and recently wanted to learn techniques with oils. Quite by chance, a newspaper article about Michael Abraham and his classes caught my eye, so I called to sign up. What good fortune! I've found Michael to be an excellent teacher, affable, approachable, and above all, extremely talented. The classes are casual and fun, in a studio environment, surrounded by Michael's wonderful art. What I've learned has greatly surpassed my expectations. Kudos to you, Michael, and thank-you for sharing your knowledge."
Y. Lambert
And a last testimonial from a teacher of fine arts at St George's School:
"We have had Michael at Saints for many years now. He is involved in our extra-curricular life drawing program as well as our curriculum based lifedrawing. I would like to support the teacher from Southridge School's articulation. Michael is awesome and the students respect him…a lot! We too have had other guest artists and teachers but he is by far the most successful with the students."
---
"There are painters who transform the sun to a yellow spot, but there are others who with the help of their art and their intelligence, transform a yellow spot into the sun." – Pablo Picasso.
---
Sign up for a class today!
Contact michael@michaelabraham.com

or best to call daily between 11am and 11 pm at
778-886-1296.